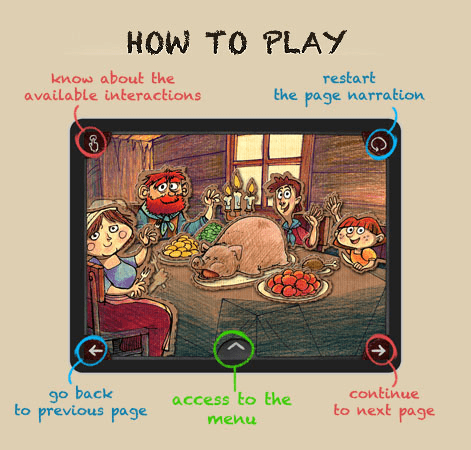 To access the App Menu (*), just tap or drag up the tab located at the bottom of the screen.
To exit the Menu, simply tap anywhere outside the window.
You can access any Menu item by tapping on the corresponding icon
To exit a Menu page, simply tap anywhere outside it.
(*) On Windows8 just open the standard Windows8 Options Menu on the right of the screen to access the App options.
Browse the pages of the tale dragging right/left and tap any thumbnail to directly access the corresponding page.
Tap to set your preferred language(s) for text and audio.
This menu includes the following items:
Music: enable/disable background music.
Sound effects: enable/disable audio effects.
Read it to me: enable/disable narrator's voice.
Turn my page: enable/disable automatic page turning once the narration is over and all the required interactions have been carried out.
Bookmark: enable/disable page bookmarking, which allows you to restart the app exactly where you left it. If this option is disabled, the tale will start from the beginning every time you launch the app.
Tap this icon to display the App's credits.